High functionality that scales to meet on-site and operational needs.
Equipped with Android™ 10
Extends multiple operations with a single terminal and is highly functional with GPS and communication apps.
High-speed 4G
4G LTE-compatible BHT allows voice calls and high-speed data communication while working outdoors.
Large screen for easy use
High usability that scales to meet on-site and operational needs
Highest Durability in its Class*
Drop tested over 60 times from over 1.5m making them strong enough for daily operations.
*Based on DENSO tests of similar smartphone-type barcode terminals in October 2020.
Uniquely designed to provide high shock resistance
Designed to provide high impact resistance, BHT-M70's magnesium frame and elastomer bumpers reduce omnidirectional shocks.
Tempered glass display provides lasting clear visibility
Using AGC's Dragontrail® Pro tempered glass, the display provides high resistance to scratching and clear visibility for long-term use.
Withstands the elements
With IP67-compliant resistance against water and dust, the terminal can be used outdoors in rainy weather or in dust-filled factories alike with peace of mind.
Reads Faster, Works Harder
Equipped with a new decode engine and high-density sensor, the BHT-M70 provides outstanding reading performance. Comfort in reading increases the efficiency of your daily operations.
High-speed processing is achieved using the Qualcomm (R) SDM660 CPU, an industry-leading processor.
Horizontal or Vertical Serial Reading
By adopting the industry-leading CPU, we tripled the reading speed to 30 labels per second (compared to conventional products).
No need to read labels one by one — just trace/scan the labels on the items horizontally or on items stacked vertically.
Serial reading allows you to save time by performing a day's worth of inventory work in half the time.
Just "hold over" for easy reading
Read Labels from a Distance
The BHT-M70's high-density sensor can successfully read codes even from a distance of 1m and through glass. Read codes easily while comfortably holding the terminal — no need to stand or crouch down repeatedly. 
Easy Scanning, Even in the Brightest Environments
The highly visible laser marker makes for easy code reading, even under bright lighting, for labels covered with wrapping film or in direct sunlight.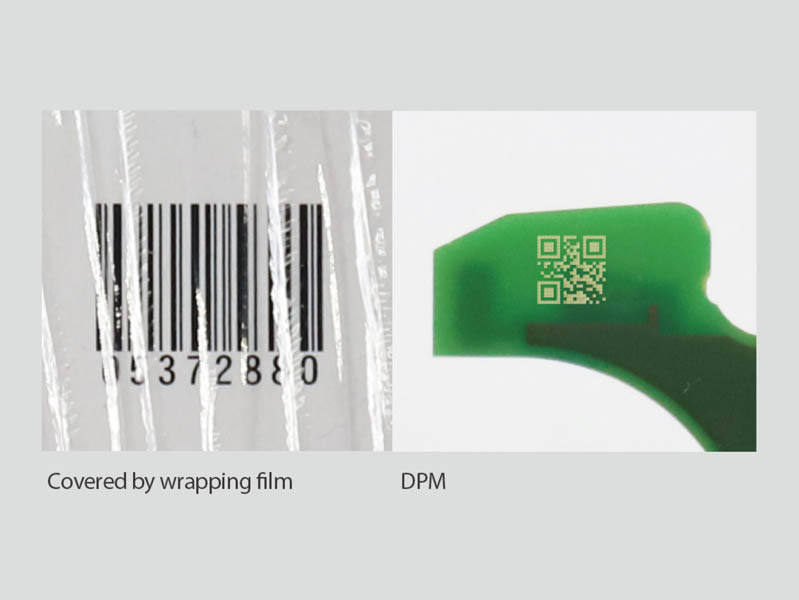 Difficult-to-read Labels are no Challenge
With its new decode engine and high-density sensor, BHT-M70 reads through wrapping film and easily scans blurred, stained, or deformed labels, as well as DPM codes, all at a comfortable position from its optimal-angle scan head design.
Advanced OCR
With a newly adopted OCR engine, even blurred and stained labels with different character heights can be read correctly.
NFC Supported
The reader is equipped with an NFC antenna to read ID data.
Stress-free and Comfortable Operation
More Options with Alternative Charging Methods
Direct Charging
Widely available USB-C cable direct recharging of mobile batteries. You can also recharge and forward files from your PC simultaneously. The Qualcomm QuickCharge 3.0 adapter is also supported.
Easy to Replace Battery
The large release lever allows for quick and easy battery replacement. 
Detects Battery Deterioration
The terminal detects battery deterioration and warns you when to replace it.
Enhanced Communication Features
Higher Communication Speed for Greater Operational Efficiency
As the terminal is usable in an IEEE802.11 AC high-speed communication environment, you can efficiently conduct operations even with a heavy data load, including using a browser, uploading data to the server, and downloading software applications.
Precise Communication with Dual SIM
The BHT-M70 supports the user of two SIM cards depending on the situation. This enables you to use networks that are available for specific areas like mountain regions. You can also separate networks between voice and data communication.
Highly-precise Location
GPS + satellite navigation system support delivers improved location precision. Status of work can be managed precisely in real-time. (Supported: A-GPS, GLONASS, QZSS, BeiDou, and Galileo)
User-friendly Screen for Greater Work Efficiency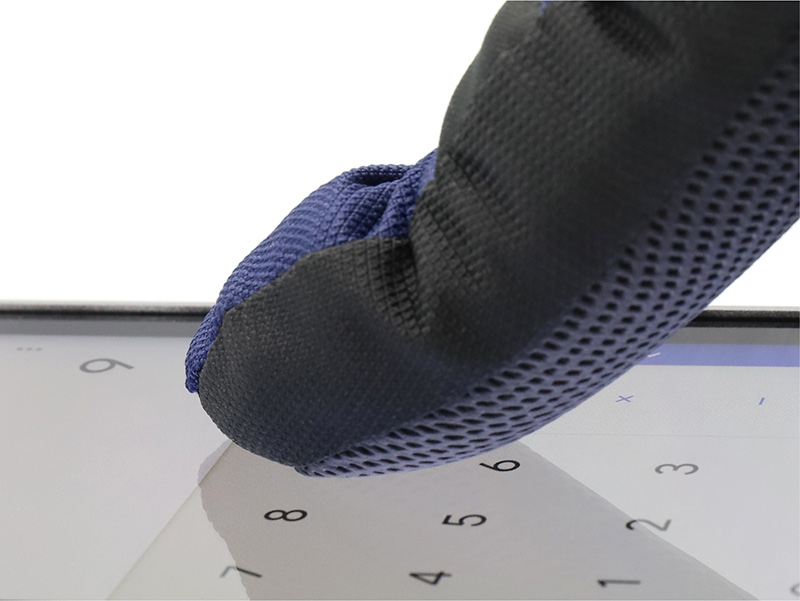 Operate Easily with Gloved Hands
The capacitive touch panel can be operated even while wearing gloves. Moreover, sensitivity is automatically adjusted according to the thickness of the gloves, which substantially reduces the time required for customized settings.
Auto Adjusting Brightness Reduces Eye Strain
The BHT-M70 automatically adjusts the screen brightness according to the environment reducing eye strain and increasing efficiency.
BHT, QR code, and SQRC are registered trademarks of DENSO WAVE Inc.
Android, Dragontrail, Qualcomm and Quick Charge are registered trademarks of their respective companies.
Product appearance and specifications may change without prior notice.

 
Model Number
BHT-M70-QW
BHT-M70-QWG
Wireless LAN
Wireless LAN + Wireless WAN



System

Operating System
Android™ 10
CPU
Qualcomm® SDM660 64 bit 2.20 GHz (Octa-Core)
RAM
4GB
Flash Memory
64GB
Card Slot Memory
microSD (SDHC and SDXC (up to 128 GB)) SDHC Speed class 4 support
Card Slot SIM
—
Dual Nano SIM DSDV (4Gx4G)



Display

Resolution (1)
4.0 in WVGA (480 x 800 dots)
Display
Dot matrix Color LCD
Backlight
White LED
Touchscreen
Dragontrail® PRO Capacitive multi-touch screen with glove touch support and water droplet false touch prevention



Scanner

Method
Area Sensor
Readable 2D Codes
QR code®, Micro QR code, SQRC®, PDF417, Micro PDF417, Maxi code, Data Matrix (ECC200), and GS1 Composite
Readable 1D Barcodes
EAN-13/8 (JAN-13/8), UPC-A/E, UPC/EAN (with add-on), and Interleaved 2 of 5 (ITF), Codabar (NW-7), CODE39, CODE93, CODE128, GS1-128 (EAN-128), and Standard 2 of 5 (STF), GS1 DataBar (RSS)
OCR (2)
Supported
Minimum Resolution 2D Codes
0.127mm
Minimum Resolution 1D Barcodes
0.076mm
Marker
Cross Guide
Scanning Confirmation
LED Light (blue), Sound and Vibration
Keypad (including power key)
27 keys (including power key), cursor keys and and 3 trigger keys
Camera
Rear 13-megapixel auto-focusing with a LED light



Network

Wireless LAN Compatible Standards
IEEE802.11a/b/g/n/ac and MU-MIMO 2x2
Wireless LAN Frequency Band (3)
5 GHz-band (W52, W53, W56 and W58)
2.4 GHz-band (1 to 13 channels)*
*USA and Canada (1 to 11 channels)
Wireless LAN Security
Encryption: OPEN, Enhanced Open, WEP(40/128), TKIP and AES
WPA authentication: WPA and WPA2 and WPA3
User authentication: PSK, EAP-TLS, and PEAP
Wireless WAN Supported Standards (3)
—
GSM/W-CDMA/LTE and VoLTE
FDD-LTE (4G): Bands 1, 2, 3, 4, 5, 7, 8, 12, 13, 17, 19, 20, 25, 26, 28
TDD-LITE(4G): Bands 39, 40, 41
W-CDMA/UMTS/HSPA/HSPA+ (3G): Bands 1, 2, 5, 6, 8, 19
GSM/GPRS/EDGE (2G): Bands 850, 900, 1800, 1900MHz
GPS
—
A-GPS/GLONASS/QZSS/BeiDou/Galileo
Bluetooth
Bluetooth® Ver5.1+EDR/LE
Supported Profile: RFCOMM / A2DP / AVCTP / ACDTP / GVDP / AVRCP / DUN / DI / HFP / HID / HSP / IOP / MAP / OPP / BNEP / PAN / PBAP / SAP / SPP / HOGP / SCPP
USB
USB 2.0 (Type-C)
NFC (4)
ISO/IEC14443A&B, FeliCa®, ISO/IEC15693 (RFID)



Power

Main Battery
Lithium-ion Battery
USB Charging
Compliant with Qualcomm® Quick Charge 3.0
Operating Time BT3 (3050 mAh)
Approx. 20 hours (5)



Operating Environment

IP Rating (6)
IP65 and IP67
Temperature Range (7)
-20° to 50°C
Humidity Range
5 to 95%RH (non-condensing and non-icing)
Drop Test (6)
60 or more drops from 1.5m above concrete floor, 2.5m



Physical Characteristics

Weight (including battery)
Approx. 330g (with battery)
Other Features (8)
Headset for USB-C Cable, Speaker ad Sensors (G-sensor, gyro sensor, proximity sensor, light intensity, and geomagnetic sensor)


1. The LCD display is manufactured with precise technology. The rate of non-defective pixels is 99.99% or more, which means that 0.01% or less pixels could be stuck or dead.
2. Chargeable license is required.
3. Actual operating channels/frequencies and bandwidths may vary depending on local regulations and approval agencies.
4. Before using the NFC function, perform test reading sufficiently using the target NFC card.
5. The operating time is a reference value at a room temperature and may differ depending on the operating conditions. This is a result of measurement
based on the JEITA HT Standard Operation Mode G, and may change depending on the operating environment and system settings.
6. These are tested values and not meant to be guaranteed results.
7. 0°C to 40°C during charging.
8. A headset or headphone can be connected through the USB Type-C cable. A USB Type-C-to-audio jack (3.5 mm) conversion cable is optional.

Android, Bluetooth, DragonTrail Pro, FeliCa, Qualcomm are trademarks of their respective companies.

**All specifications subject to change without notice.
Optional Accessories – Sold Separately



Batteries and Accessories

Part #

Lithium-ion Battery
3050mAh
BT3



Charging Station

Four-slot Unit Charger
Charge up to four terminals at the same time. AC adapter not included.
CH-M70-4
Four-slot External Battery Charger
Charge up to four batteries at the same time. AC adapter not included.
CH-BT1-4
AC Adapter
AD3



Communication Station

USB Type Charger
With spare battery charger. Adapter sold separately.
CU-M70U
LAN Charger
With spare battery charger. Adapter sold separately.
CU-M70L
AC Adapter
AD3
USB Type Charger
Without spare battery charger. Adapter sold separately. Quick Charge 3.0 supported.
CU-M70UQ
AC Adapter
Quick Charge 3.0 supported
AD8
Cable
1.5m USB-C to USB-A conversion cable
CB00-US1500/4A-4C
Cable
USB-C to audio jack conversion cable (for use with earphones and other devices)
CB00-US100/3-4C



Other Accessories

Hand Strap
HBBHT-M70
Stylus Pen
PNBHT-1700
| | | |
| --- | --- | --- |
| Software | Description | Part # |
| SDK Android | Software Development Kit (SDK) for Android 10 | Free download |
| BHTLink | Development tool or transmitting and receiving files between Android BHT and a PC | |
| BHT Booster | Application development tool for Android | |
| BHT DMS (Device Management System) | Terminal management system for connecting with DENSO WAVE products. | |
| BHT Remote | Software to remote-control an Android BHT on a PC | |
| BHT Security Package | Visualizing device control, firewall and security incidents | |
| Application Launcher | Control functions and access from workers | |
| Battery Monitor | Monitoring battery deterioration and notification control | |
| BHT Browser | For instant web app editing, specifically BHT control. Asset with necessary functions for operation like URL white list. | |
| Touchtrigger | Scan button that can be repositioned on the screen | |
All software can be downloaded from DENSO Wave's QBdirect. Free software and drivers can be used immediately. Other software packages are available as trials. Please contact DENSO ADC to purchase a full license.