SC1-QB Healthcare Scanner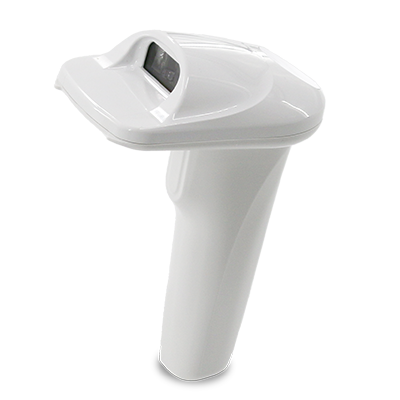 Unmatched in the Industry. The all-new SC1-QB brings a needed breakthrough for health care settings. The smooth surface is designed for ease of wipe-down and will withstand rigorous anti-bacterial cleaning. Lightweight, quick-charging, and powerful, it offers superior performance in any clinical or office setting as well as in restaurants, retail, and other shared environments.
Smooth, Seamless, Sanitary.
Say goodbye to crevices, cracks, and screw holes where microbes and pathogens can hide. The smooth surface of the SC1-QB is easy to clean, ideal for day-in-day-out use with chemical disinfectants common to healthcare settings.
Featherweight Ease.
At only 4.5 ounces, the SC1-QB is pleasantly lightweight. Ergonomic contours and a pressure-sensitive (piezoelectric) trigger make scanning a breeze.
Wireless Charging in 3 Minutes or Less.
Simply set the SC1-QB on its compact, magnetic charging cradle. The scanner's internal capacitor will fully charge in just three minutes or less—eliminating needless downtime. Need to complete quick work on low power? Get dozens of scans after only 60 seconds of charging. What's more, the internally capacitor never needs replacement, unlike traditional batteries.
IP65 Rated Protection.
The SC1-QB scanner is highly resistant to dust and water intrusion, making it a reliable accessory in varying environments and room conditions.
Durable and Dependable.
The SC1-QB is made to withstand the rigors typical of daily use, tested in multiple drops from heights up to 6 feet.
Advanced Performance.
Equipped with latest in code-reading technology from DENSO, the SC1-QB ensures swift, accurate data capture, scan after scan after scan. Never worry about cables getting tangled with wireless scanning. SC1-QB comes enabled with Bluetooth 5 (BLE) for added wireless functionality.
Model Number
SC1-QB



Scanner

Method
Area Scanner
Readable 2D Codes
QR Code, SQRC, Micro QR Code, DataMatrix (ECC200), PDF417, MicroPDF417, MaxiCode, Aztec, GS1 Composite
Readable 1D Barcodes
EAN-13/8 (JAN-13/8), UPC-A/E, UPC/EAN (with add-on), Interleaved 2 of 5, Standard 2 of 5, Codabar (NW-7), CODE39, CODE93, CODE128, GS1-128 (EAN-128), GS1 DataBar (RSS), ISBT128
Minimum Resolution 2D Codes
0.127mm
Minimum Resolution 1D Barcodes
0.076mm
PCS Value
More than 0.3
Targeting Marker
LED
Angle
±50°
Skew Angle
360°
Scanning Confirmation
LED Light (blue, green and red) and Sound and Vibration



Communication

Standard Method
Bluetooth 5.0 Low Energy Based Class 2 (compatible with Android, iOS and Windows devices with HID Over GATT Profile (HOGP)



Power

Power Supply
Capacitor Battery (Wireless charging on base, sold separately)
Charging Time
Approx. 3 minutes
Operating Time
Approx. 30 minutes (1 scan per 5 sec)



Operating Environment

IP Rating
IP65
Temperature
-20 to 50°C
Humidity
10 to 90% RH (non-condensing)
Illuminance
Under 10,000 lux (daylight fluorescent lamp)
Drop Test
2.0m (onto concrete floor) / 0.5m x 2,000 times



Physical Characteristics

Weight
Approx. 130g

**All specifications subject to change without notice.
Charging Stand Specifications 
Model Number
CH-SC1W



Scanner

Notification
LED Light (blue, green and red)
Communications Interfaces with Windows PC
USB 2.0, USB-HID keyboard interface / USB-COM interface



Power

Power Supply
USB Charging (DC 5V)
Battery
Two AA rechargeable batteries (Tested for specifications with Eneloop brand 1900mAh batteries.)



Operating Environment

IP Rating
IP22
Temperature
0 to 40°C
Humidity
20 to 80% RH (non-condensing)



Physical Characteristics

Weight
Approx. 125g without battery

**All specifications subject to change without notice.
Optional Accessories – Sold Separately
All software can be downloaded from DENSO Wave's QBdirect. Free software and drivers can be used immediately. Other software packages are available as trials. Please contact DENSO ADC to purchase a full license.
Downloads
Version
Download 124
File Size 0.00 KB
File Count 1
Create Date August 6, 2021
Last Updated November 21, 2022
12-page brochure featuring DENSO scanners, terminals and software
Version
Download 487
File Size 2.19 MB
File Count 1
Create Date October 21, 2020
Last Updated April 18, 2022
Folleto de 12 páginas presentando los productos DENSO ADC: escáneres, terminales, herramientas y aplicaciones
Version
Download 320
File Size 3.51 MB
File Count 1
Create Date October 18, 2020
Last Updated September 7, 2021