Counter Scanning
No need to manually read RF tags one after another. Checkout is quick and easy as products scan on the counter.
Fits In Easily
The UR21-MR is compact with thin antenna, so it installs neatly in a small space. You can use it with your existing registers.
The Right Range
A communications range of about 2.6 feet is ideal for point-of-sale registers. You can adjust the range lower to prevent reading products at nearby registers. Or, you can extend the range with a second antenna (Windows).
POS Connectivity
An optional OPOS driver allows you to connect to POS registers and use them with counter scanning.
Model Number
UR21-MR-01



RFID

Supported RF Tags
ISO/IEC18000-63 TypeC (EPCglobal Class1 Gen2)-supported Tag
Frequency Range
865.7 - 867.5 MHz
Signal Bandwidth/No. of Channels
600kHz / 4 Channels
Transmission Output
500mW ERP
Modulation Method
PR-ASK
Transmission Rate
40kbps
Scanning Distance (2)
0 - 800 mm (Avery Dennison AD-229r6)
Output Adjustment
5-23 dBm 



LED Indicator

Four Indicators
Power Supply (green), COM (red), ANT1 (orange), ANT2 (orange)



Communications

Interface
RS-232C (D-sub 9-pin), USB (mini USB B Type)



Power

Power Supply
AC adapter (100 V)
Current Consumption
1300 mA max. (excluding inrush current) 



Operating Environment

Temperature Range
0° to 40°C



Components

Controller
One (including a rear cover and screws for securing the rear cover)
Antenna
One (with VESA-compliant screw holes)
Antenna Cable
Double-end RF connector (GT27) cable (2000mm long)
Antenna Securing Screws
Four



Physical Characteristics

Dimensions
Controller: 90 x 108.5 x 31mm
Antenna: 200 x 200 x 17.5mm
Weight
Controller: Approx. 130g 
Antenna: Approx. 360g


(1) Do not connect an antenna, a controller or a cable that is not specified by DENSO Wave.
(2) Network range may vary according to target tag. Network range is a reference value and this may vary accordingly, depending on the actual environmental conditions.

**All specifications subject to change without notice.
Optional Accessories – Sold Separately



Communication

Part #

Antenna
Coaxial cable not included
URAN-R2
Antenna
RFID UHF includes cable
URAN-S1
Cable
Straight 1.5m RS-232C cable
CB00RS1500/9901
Cable
Straight 1.5m USB cable. Type A Male - mini B Male
CB00US15004A4B1
Cable
Straight 2.0m USB cable. Type A Male - mini B Male
CBBA-US2000/4
Coaxial Cable
For URAN-R2
CBANCGT272000GT



Power and Charging

AC Adapter
Output: DC 5V - 1.5A Input: 100 to 240 V AC ±10%. For USA, Canada and Mexico.
AD2-2005/300003
| | | |
| --- | --- | --- |
| Software | Description | Part # |
| Active USB-COM Port Driver | USB-COM port driver | Free download |
All software can be downloaded from DENSO Wave's QBdirect. Free software and drivers can be used immediately. Other software packages are available as trials. Please contact DENSO ADC to purchase a full license.
Downloads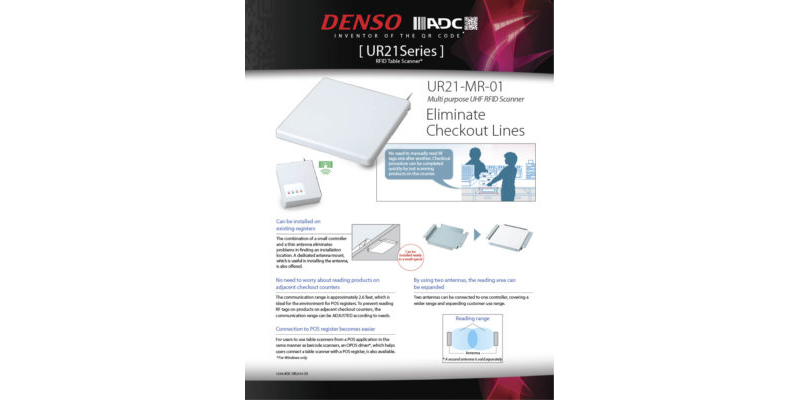 Two-page product sheet with features and specifications for the UR21-MR stationary scanner.
Version
Download 42
File Size 2.19 MB
File Count 1
Create Date October 26, 2020
Last Updated March 2, 2021
12-page brochure featuring DENSO scanners, terminals and software
Version
Download 487
File Size 2.19 MB
File Count 1
Create Date October 21, 2020
Last Updated April 18, 2022
Folleto de 12 páginas presentando los productos DENSO ADC: escáneres, terminales, herramientas y aplicaciones
Version
Download 320
File Size 3.51 MB
File Count 1
Create Date October 18, 2020
Last Updated September 7, 2021