Even blots or smears can't stand in the way of scanning with the new scan engine "Advanced Scan Plus" that matches the performance of laser-type scanners.
The unique CCD method "Advanced Scan" has been evolved, achieving approximately three times the speed of laser-type scanners.
Stress-less quick scanning of continuous barcodes during inspection leads to reduced operation time.
Maximum scanning depth from up to 25 feet or more away
From scanning at close to far distances, can scan up to 25 feet or more away.(1)
From floor to ceiling, easily scan without having to change positions.
Strong against blots or smears
Quick and accurate scanning even when barcodes are partially not visible or dirty by reading the barcode in 2-dimensions rather than as lines.
In addition to barcodes in poor condition, high density and wide barcodes can also be read.
Where can BHT-1100 be useful? Picking in the backyard.
Flash ROM capacity significantly increased to 2GB. Work without worrying about memory.
Also as external memory, the high-speed reading MicroSDHC is supported, allowing smooth data transfer within the BHT-1100 and from external data.
1 terminal, 2 roles. Camera attached
Large elastic is attached to the tip of the barcode scanner to prevent damage upon large falls, securing high durability.
Durable keypad where the key tops or letters don't come off.
Proven durability, clearing drop resistance tests of 60 times at 1.2m in height. Allows for long use with peace of mind.
DENSO Group support, even abroad
The global DENSO Group network allows for full local maintenance and support, both domestically or abroad.
Quick response in case repair is needed.
Design
Strictly strives for easy grip and operational convenience, always supporting repetitive tasks.
Irregular surface on the back to ensure a sense of stability when held.
Further increased stability with the hand belt.
Stable operation with both the keys and stylus.
Model Number
BHT-1171BWB-CE
BHT-1170BWB-CE
Model w/ Camera
Model w/o Camera



System

Operating System
Windows Embedded CE6.0 R3
CPU
32bit RISC 800MHz
RAM
512MB
Flash ROM
2.0GB
Card Slot
microSDHC x 1



Display

Resolution (1)
3.5 in. HVGA (320 x 480 px)
Backlight
LCD



Scanner

Camera
1.3 megapixels
—
Method
Advanced Scan Plus (CCD)
Readable 1D Barcodes
EAN-13/8 (JAN-13/-8) UPC-A/-E, UPC/EAN (With add-on), Interleaved 2 of 5, Standard 2 of 5, CODABAR (NW-7), CODE39, CODE93, CODE128, GS1-128(EAN-128), GS1 DataBar (RSS)
Minimum Resolution 1D Barcodes
0.125mm
Scanning Distance
640mm (resolution 0.33mm)
1300mm (resolution 1.0mm)
Reading Reference Position
100mm
110mm
Scan Confirmation
LED Light (blue, green and red), Sound and Vibration
Keypad
21 keys (including power key) + cross cursor key + 3 trigger Keys



Wireless LAN Communication

Standard
IEEE802.11b/g/n Compliant
Frequency
2.4GHz
Communication Distance (2)
Indoor: 150m, Outdoor: 300m
Transmission Speed (2)
IEEE802.11b: 11/5.5/2/1Mbps, IEEE802.11g: 54/48/36/24/18/12/9/6Mbps, IEEE802.11n: 65/58.5/52/39/26/19.5/13/6.5Mbps
Access Method
Infrastructure Mode
Security
WEP40, 128, WPA-PSK (TKIP, AES), WPA2-PSK (TKIP, AES), WPA-1x (TKIP, AES/EAP-TLS, PEAP)WPA2-1x (TKIP, AES/EAP-TLS, PEAP), 802.1x (EAP-TLS, PEAP)



Bluetooth Communication

Bluetooth Ver2.0 + EDR Class 2



Cradle I/F

RS-232C / USB client



Power

Main Battery
Lithium-ion Battery
Operating Time (3)
Approx. 17 hours (standard battery) / Approx. 25 hours (large capacity battery)(3)



Operating Environment

IP Rating
IP54
Temperature Range (4)
-20 to 50°C
Drop Test (5)
1.5m drop on concrete floor, 10 times each on all 6 sides (total 60 times)



Physical Characteristics

Weight
Approx. 380g
Approx. 375g

(1) Properly operating pixel rate is 99.99%.
(2) The communication distance shown is a reference value. It may vary depending on the actual environmental conditions.
The transmission speed shown is a logical variable only, not the guaranteed value.
(3) At the ratio of scanning: wireless transmission: screen transition:stand-by=1:1:1:20, wireless stand-by (power save on), and LCD backlight low.
Featured values are for reference at room temperature, and actual operating hours may vary according to the usage environment.
(4) Zero to 40°C when charging.
(5) Result obtained in a test under regular temperature is shown and not meant as a guarantee.
(6) Zero to 40°C when batteries are being recharged.
(7) Result obtained in a test under regular temperature is shown and not meant as a guarantee.
**All specifications subject to change without notice.



Optional Accessories – Sold Separately
BHT-1100 Series Options list
Communication
Cradles performing data communications between BHT and higher rank units.
CU-1133

USB/RS-232C communication
Main unit charging
Reserve battery charging

CU-1111

Ethernet communication
Main unit charging
Reserve battery charging
Charger
A lineup of various BHT main unit charging type and backup cartridge charging type devices.
CH-110

Up to 4 BT-20LB (or BT-110LA or BT-110L) unit can be charged.
Power Supply
Batteries for BHT-1110
BT-110LA

Lithium-ion battery (standard battery only)

BT-110LA-C

Lithium-ion battery (standard battery + battery cover)

BT-110L

Lithium-ion battery (high-capacity battery only)

BT-110L-C

Lithium-ion battery (high-capacity battery + battery cover)
Soft case and others
SCBHT-1100
WHBHT-1100/1200
Accessories
Hand-belt
Stylus pen
Operation guide
*Battery and battery cover are not supplied with the product
Compatible with various development tools
Microsoft Visual Studio 2008
Microsoft Visual C++ (1)
Microsoft Visual Basic (1)(2)
Microsoft Visual C# (1)(2)
Microsoft Visual Studio 2005
Microsoft Visual C++ (1)
Microsoft Visual Basic (1)(2)
Microsoft Visual C# (1)(2)
Development of applications using BHT specific features requires the library/class library included in the BHT specific Software Development Kit (SDK), which can be downloaded for free at our website.
The BHT specific class library is compatible with the following versions:- Microsoft .NET Compact Framework 2.0/3.5
All software can be downloaded from DENSO Wave's QBdirect. Free software and drivers can be used immediately. Other software packages are available as trials. Please contact DENSO ADC to purchase a full license.
Downloads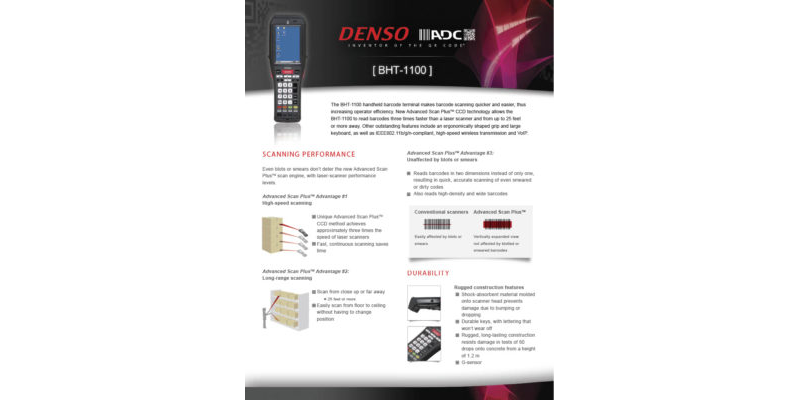 Four-page brochure with features, accessories and specifications for the BHT-1100 series of Windows CE handheld barcode terminals.
Version
Download 34
File Size 1.89 MB
File Count 1
Create Date October 22, 2020
Last Updated March 15, 2021