A handheld terminal that combines mighty power, multi-functionality, and intuitive ease-of-use. It's ideal for applications in logistics, manufacturing, retail and healthcare. And it comes with software that even non-coders will find useful for streamlining their unique workflows.
Range
Scan worry-free from distances of 2 inches to 5 feet.
Speed
With advanced decode engine, high-density sensor, and top-performing CPU, the BHT M80 handles up to 30 scans per second. Slash inventory time with "trace" scanning—reading multiple codes in a fluid motion.
Comfort
Experience handheld ease, even when codes are overhead or below, with an ergonomically positioned sensor, large display, and modest heft (12 to 14 oz depending on choice of battery).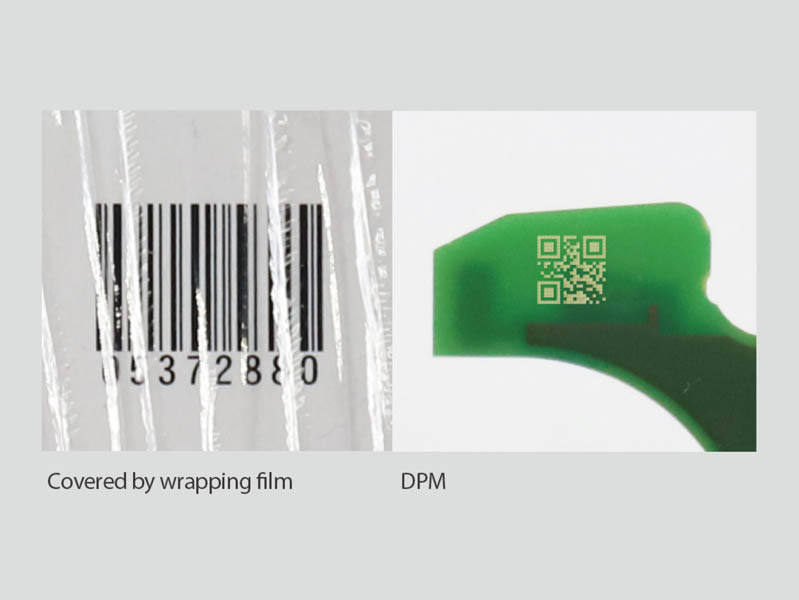 Accuracy
Codes that were previously illegible with other readers are now readable with advanced OCR (optical character recognition). Now you can:
Read codes through glass, wrapping film, tape, and reflective and/or crinkled surfaces.
Read codes that are stained, smudged, blotted, dirty, deformed, or poorly printed.
Advanced optical character recognition (OCR) even reads print that is blurred, stained, or distorted.
Android 10 Operation
Users of Android phones and tablets find operation of the BHT M80 intuitive, getting up to speed and productive quickly.
High Visibility
The 5-in. high-resolution display affords exceptional readability — even in full sunlight.
Automatically adjusts brightness for optimum visibility in any ambient light
Trouble-free touch operation — even with gloved hands and with water on the screen.
Hand-Friendly
Ergonomic design avoids fatigue with extended use. Angled scan head is optimal for reading codes overhead and below the knees.
Convenient Recharging
Onscreen Battery Monitor lets you know when it's time to replace the battery. Recharge:
Direct via USB-C Cable
Via Qualcomm® Quick Charge™ Adapter
Contactless (with optional 5800mAh battery and cradle)
Drop Resistant
Strong magnesium frame equipped with elastomer bumpers to absorbs shocks to resist impact damage. Tested in multiple drops from typical working heights.
2,000 drops at 1.0 meter (3 ft. 3 in.)
60 drops at 1.5 meters (4 ft. 11 in.)
6 drops at 2.5 meters (8 ft. 2 in.)
Defies Harsh Environments
Compliance with IP67 specs assures you the BHT-M80 is impervious to dust and sand and can sail through tasks in wet or damp conditions.
A Clear Choice
The tempered glass screen (DragonPro®) leads the industry with resistance to scratching, ensuring easy-on-the-eyes clarity for long-term use.
The Mighty Engine That Could
Processing Power
With a Qualcomm® SMD 660 CPU (64-bit Octa-Core 2.2 GHz), the BHT-M80 gives you the power to handle multiple apps and data flows simultaneously—with no compromise in performance. For example, conduct a voice call while you receive or upload scanned data, hiccup-free.
Multifaceted Connectivity
In addition to 4G LTE speed, the BHT-M80 supports Wi-Fi, Bluetooth, and VoLTE with Google Mobile Services. With two SIM slots, it accommodates a bevy of optional apps to make communication as swift and easy as you've always hoped it would be.
GPS+ Enabled
Precise, responsive mapping and routing are at your fingertips. The BHT-M80 is a boon for terminal functions in the field, e.g., work of delivery fleets.
NFC and RFID Capability
Use the BHT-M80 to quickly read RFID tags and capture ID information via an integral NFC antenna.
Simple Customization 
A host of applications developed by DENSO partners lets you expand your capabilities for security, logistics, face authentication, inspection, root navigation, and transceiver functions.
Remote Operation
Manage individual terminals, trouble-shoot, and perform updates swiftly — all from the convenience of your PC.
Model Number
BHT-M80-QW
BHT-M80-QWG
Wireless LAN
Wireless LAN + Wireless WAN



System

Operating System
Android™ 10
CPU
Qualcomm® SDM660 64 bit 2.20 GHz (Octa-Core)
RAM
4GB
Flash Memory
64GB
Card Slot Memory
microSD (SDHC and SDXC (up to 128 GB)) SDHC Speed class 4 support
Card Slot SIM
—
Dual Nano SIM DSDV (4Gx4G)



Display

Resolution (1)
5.0 in. High Def (720 x 1,280 px)
Display
Color LCD
Backlight
White LED
Touchscreen
Dragontrail® PRO



Scanner

Method
Image Scanner
Readable 2D Codes
QR code®, Micro QR code, SQRC®, PDF417, Micro PDF417, Maxi code, Data Matrix (ECC200), and GS1 Composite
Readable 1D Barcodes
EAN-13/8 (JAN-13/8), UPC-A/E, UPC/EAN (with add-on), and Interleaved 2 of 5 (ITF), Codabar (NW-7), CODE39, CODE93, CODE128, GS1-128 (EAN-128), and Standard 2 of 5 (STF), GS1 DataBar (RSS)
OCR (2)
Supported
Minimum Resolution 2D Codes
0.127mm
Minimum Resolution 1D Barcodes
0.076mm
Marker
Cross Guide
Scanning Confirmation
LED Light (blue), Sound and Vibration
Keypad (including power key)
5 keys + 2 trigger keys
Camera
Front - 5MP autofocus, Rear - 13MP autofocus



Network

Wireless LAN Compatible Standards
IEEE802.11a/b/g/n/ac and MU-MIMO 2x2
Wireless LAN Frequency Band
5 GHz-band (W52, W53, W56 and W58)
2.4 GHz-band (1 to 13 channels)
*USA, Canada, Taiwan (1 to 11 channels)
Wireless LAN Security
Encryption: OPEN, Enhanced Open, WEP(40/128), TKIP and AES
WPA authentication: WPA and WPA2 and WPA3
User authentication: PSK, EAP-TLS, and PEAP
Wireless WAN Supported Standards
—
GSM/W-CDMA/LTE and VoLTE
FDD-LTE (4G) - Bands 1, 2, 3, 4, 5, 7, 8, 12, 13, 17, 19, 20, 25, 26, 28
W-CDMA/UMTS/HSPA/HSPA+ (3G) - Bands 1, 2, 5, 6, 8, 19
GSM/GPRS/EDGE (2G) - Bands 850, 900, 1800, 1900MHz
GPS
—
A-GPS/GLONASS/QZSS/BeiDou/Galileo
Bluetooth®
Bluetooth 5.1+EDR/LE

Compatible Authentication Profile:
RFCOMM/A2DP/AVCTP/ACDTP/GVDP/AVRCP/DUN/DI/HFP/
HID/HSP/IOP/MAP/OPP/BNEP/PAN/PBAP/SAP/SPP
USB
USB 2.0 (Type-C)
NFC (3)
ISO/IEC14443A&B, FeliCa®, ISO/IEC15693 (RFID)



Power

Main Battery
Lithium-ion Battery
Wireless Charging
Supported (excludes battery and charger)
USB Charging
Qualcomm® Quick Charge 3.0
Operating Time BT1S 2900 mAh Battery
14 hours (4)
Operating Time BT1 4020 mAh Battery
20 hours (4)
Operating Time BT1L 5800 mAh Battery
29 hours (4)



Operating Environment

IP Rating (5)
IP65 and IP67
Temperature Range (6)
-20° to 50°C
Humidity Range
20 to 80%RH (non-condensing and non-icing)
Drop Test (5)
60 or more drops from 1.5m and 2.5m



Physical Characteristics

Weight (including battery)
Approx. 345g (BT1S), 365g (BT1) and 395g (BT1L)
Other Features (7)
Headset port for USB-C Cable, Speaker, and Sensors (G-sensor, gyro sensor, proximity sensor, light intensity sensor, and geomagnetic sensor)


(1) Properly operating pixel rate is 99.99%
(2) A license is required.
(3) Before using the NFC function, perform test reading sufficiently using the target NFC card.
(4) The operating time is a reference value at a room temperature and may differ depending on the operating conditions.
Measurement based on the JEITA HT Standard Operation Mode G, and may change depending on the operating environment and system settings.
(5) These are tested values and not meant to be guaranteed results.
(6) Zero to 40°C when batteries are charging.
(7) A headset or headphone can be connected through the USB Type-C cable. A USB Type-C-to-audio jack (3.5 mm)
conversion cable is optional.

Android, Bluetooth, DragonTrail Pro, FeliCa, Qualcomm are trademarks of their respective companies.

**All specifications subject to change without notice.
Optional Accessories – Sold Separately



Batteries and Accessories

Part #

Lithium-ion Battery
2900mAh
BT1S
LIthium-ion Battery for Wireless Charging
2900mAh
BT1S-W
Lithium-ion Battery
4020mAh
BT1
Lithium-ion Battery
5800mAh
BT1L



Charging Station

Wireless Charger
Adapter sold separately
CH-M80W
Four-slot Unit Charger
Charge up to four terminals at the same time. AC adapter not included.
CH-M80-4
Four-slot External Battery Charger
Charge up to four batteries at the same time. AC adapter not included.
CH-BT1-4
AC Adapter
Quick Charge ™ 3.0 (Requires USB-C conversion cable to charge the BHT terminal, sold separately.)
AD8



Communication Station

USB Type Charger
With spare battery charger. Adapter sold separately.
CU-M80U
USB Type Charger
Without spare battery charger. Adapter sold separately.
CU-M80UQ
LAN Charger
With spare battery charger. Adapter sold separately.
CU-M80L
AC Adapter
AD3
Cable
1.5m USB-C to USB-A conversion cable
CB00-US1500/4A-4C
Cable
USB-C to audio jack conversion cable (for use with earphones and other devices)
CB00-US100/3-4C



Other Accessories

Hand Strap
HBBHT-M80
Stylus Pen
PNBHT-1700
| | | |
| --- | --- | --- |
| Software | Description | Part # |
| SDK Android | Software Development Kit (SDK) for Android 10 | Free download |
| BHTLink | Development tool or transmitting and receiving files between Android BHT and a PC | |
| BHT Booster | Application development tool for Android | |
| BHT DMS | Device Management System | |
| BHT Security Package | App for visualzing device control, firewall and security incidents | |
| Application Launcher | | |
| Battery Monitor | | |
| BHT Browser | | |
| Touchtrigger | Scan button that can be repositioned on the screen | |
All software can be downloaded from DENSO Wave's QBdirect. Free software and drivers can be used immediately. Other software packages are available as trials. Please contact DENSO ADC to purchase a full license.
Downloads
Two-page product sheet with features and benefits.
Version
Download 35
File Size 0.00 KB
File Count 1
Create Date April 18, 2022
Last Updated April 18, 2022
12-page brochure featuring DENSO scanners, terminals and software
Version
Download 513
File Size 2.19 MB
File Count 1
Create Date October 21, 2020
Last Updated April 18, 2022
Folleto de 12 páginas presentando los productos DENSO ADC: escáneres, terminales, herramientas y aplicaciones
Version
Download 336
File Size 3.51 MB
File Count 1
Create Date October 18, 2020
Last Updated September 7, 2021